Print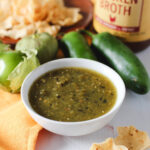 Salsa Verde
Nothing says a three day weekend quite like fresh salsa. We're whipping up some Salsa Verde made with roasted tomatillos and finished off with none other than Zoup! Good, Really Good chicken broth.
On a grill pan or BBQ over medium heat add garlic cloves, tomatillos, onion (chopped in quarters), and jalapeños. Grill until brown spots form. Remove and let cool.

Peel garlic and scrape burnt skin off chiles. Chop onions, jalapeños and garlic.

Transfer tomatillos and all vegetables to a blender. Add the cilantro and sugar. Blend until smooth. Season with salt to taste.

Add olive oil to a large saucepan over medium heat. Add the blended mixture and stir until slightly thickened. Add broth and lime juice. Bring to a boil.

Reduce heat and simmer for 10 minutes. Season to taste with more salt, sugar and/or lime. If you are making ahead, let chill in fridge.