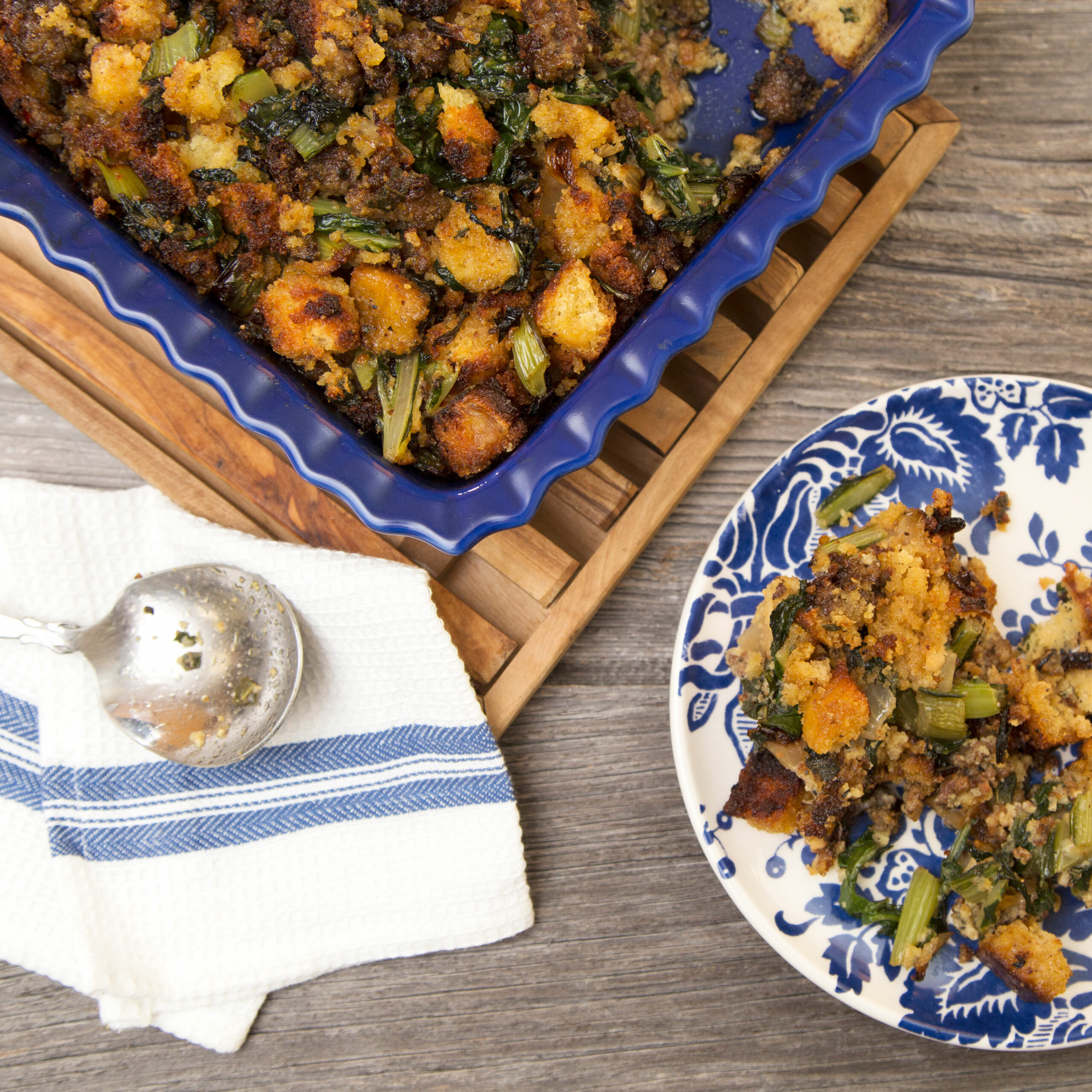 Cornbread Stuffing with Spicy Sausage, Chard and Sage Brown Butter
Ingredients
6

cups

prepared cornbread

1 pound loaf, cubed into 3/4-inch chunks

1

pound

bulk sausage

1

large

onion

peeled and chopped

4

cloves

garlic

finely chopped

2

cups

Good, Really Good

®

Broth (any variety)

8

cups

Swiss chard

about 2 bunches, leaves and stems coarsely chopped

8

tbsp

butter

cubed

½

cup

sage leaves

coarsely chopped

4

large eggs

1

tsp

Kosher salt

½

tsp

freshly grated black pepper
Instructions
Preheat oven to 375°F. Lay out cubed cornbread onto lightly sprayed or greased rimmed baking pan and bake for 12-15 minutes or until cornbread is golden and crisped, stirring as needed, and reserve.

In large skillet over medium-high heat, cook sausage, breaking up with wooden spoon into coarse chunks, until browned and cooked through. Remove cooked sausage from skillet with slotted spoon and transfer to large mixing bowl. In same skillet, over medium-high heat, cook chopped onion for 5 – 8 minutes or until slightly translucent. Add garlic and cook for an additional 2 – 3 minutes, stirring as needed. Deglaze skillet with broth (any flavor is good – we used chicken bone broth) and bring to simmer. Add chard in batches, cooking until just wilted, and pour over reserved sausage.

In same skillet over medium-high heat, melt butter and cook until lightly browned and frothy. Add sage leaves and cook for about one minute or until sage leaves are darkened and lightly crisped. Pour over sausage and vegetable mixture.

In small bowl, add eggs, salt and pepper and whisk until combined. Add to vegetable mixture, stirring to combine, and fold in cornbread. Transfer to glass or ceramic 2-quart baking dish. Bake for 35-45 minutes or until golden and edges crisped. Let cool on wire rack for 15 minutes and serve warm.

Chef's Tip: Try using greens such as kale, collards, spinach or mustard greens. Cheese lovers can top with finely shredded parmesan or your favorite cheese before baking.
---
We hope you enjoy your Cornbread Stuffing with Spicy Sausage, Chard and Sage Brown Butter recipe! Make it even better when cooked with Zoup! Good, Really Good Veggie Broth! Be sure to check out our social pages to stay up to date with all things Zoup! Good, Really Good.