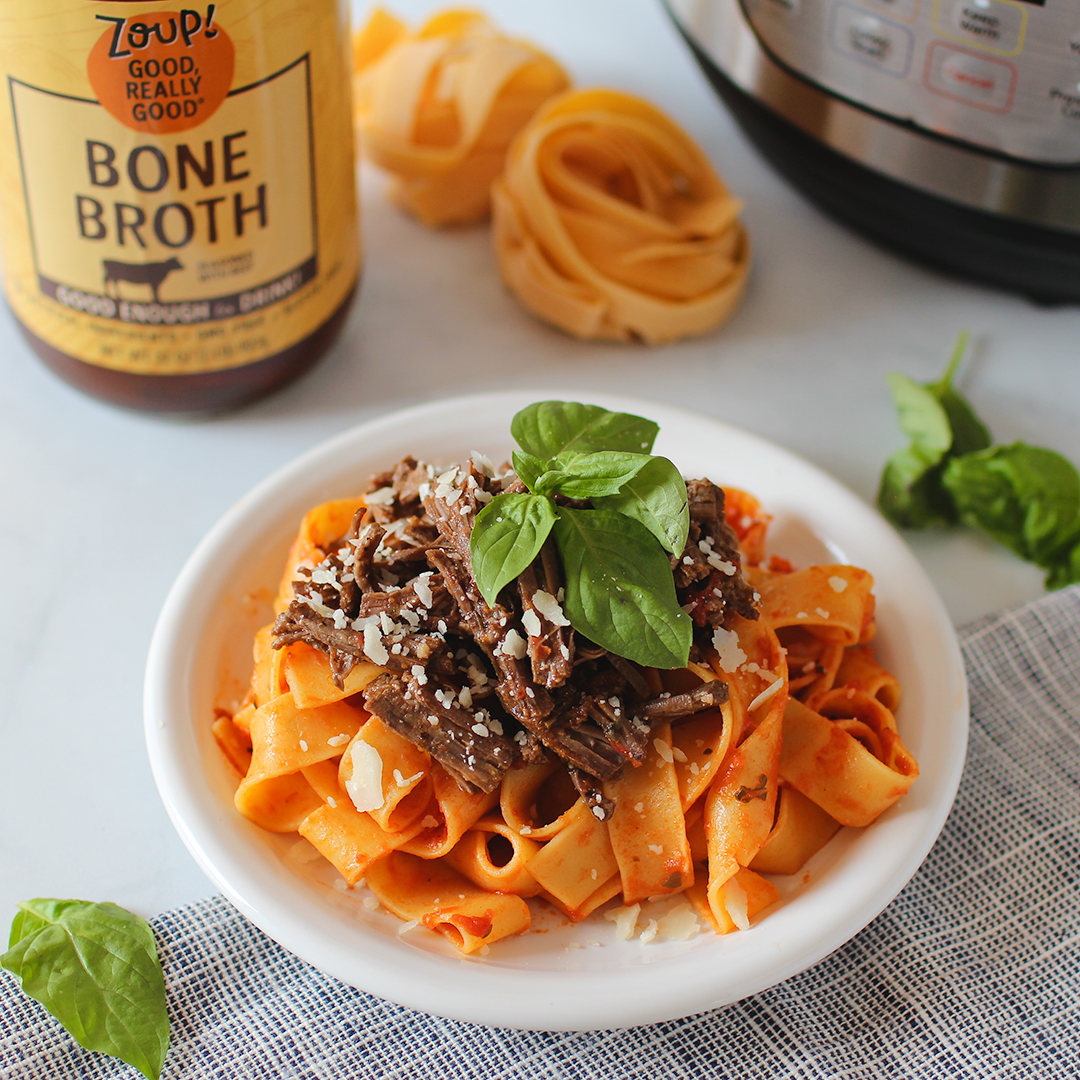 Instant Pot Beef Ragu
Try this easy Instant Pot Beef Ragu for an easy weeknight dinner you can prep in 15 minutes and cook in 1 hour. That's a whole lot faster than 8 hours a traditional ragu takes.
Ingredients
1

lb

flank steak

8

oz

pappardelle pasta

16

oz

crushed tomato sauce

1

cup

Zoup! Good

Really Good Beef Broth

1

tbsp

basil

1

tbsp

rosemary

1

tbsp

thyme

2

tbsp

butter

3

tsp

minced garlic

1

tsp

oregano

Salt and pepper

to taste
Instructions
Cut the beef into 2 – 3 pieces. Season both sides of stead with salt, pepper and garlic powder.

Add 1 tbsp of butter to a medium pan and heat on medium-high heat. Sear both sides of your flank steak until nicely browned, then remove from heat.

Turn your pressure cooker on and set it to High for 35 minutes. Add butter and minced garlic. Then place steak on top. Then add all remaining ingredient to the pot.

Close the lid and let it cook for 35 minutes. Then slow release for 20 minutes.

While your meat is cooking, cook pasta according to directions. Drain and set aside.

Once the meat is cooked, remove from Instant Pot and shred the meat on a separate plate with two forks. Then add meat and sauce to pasta and enjoy!
---
We hope you enjoy your Instant Pot Beef Ragu cooked with Zoup! Good, Really Good Beef Bone Broth! Be sure to check out our social pages to stay up to date with all things Zoup! Good, Really Good.