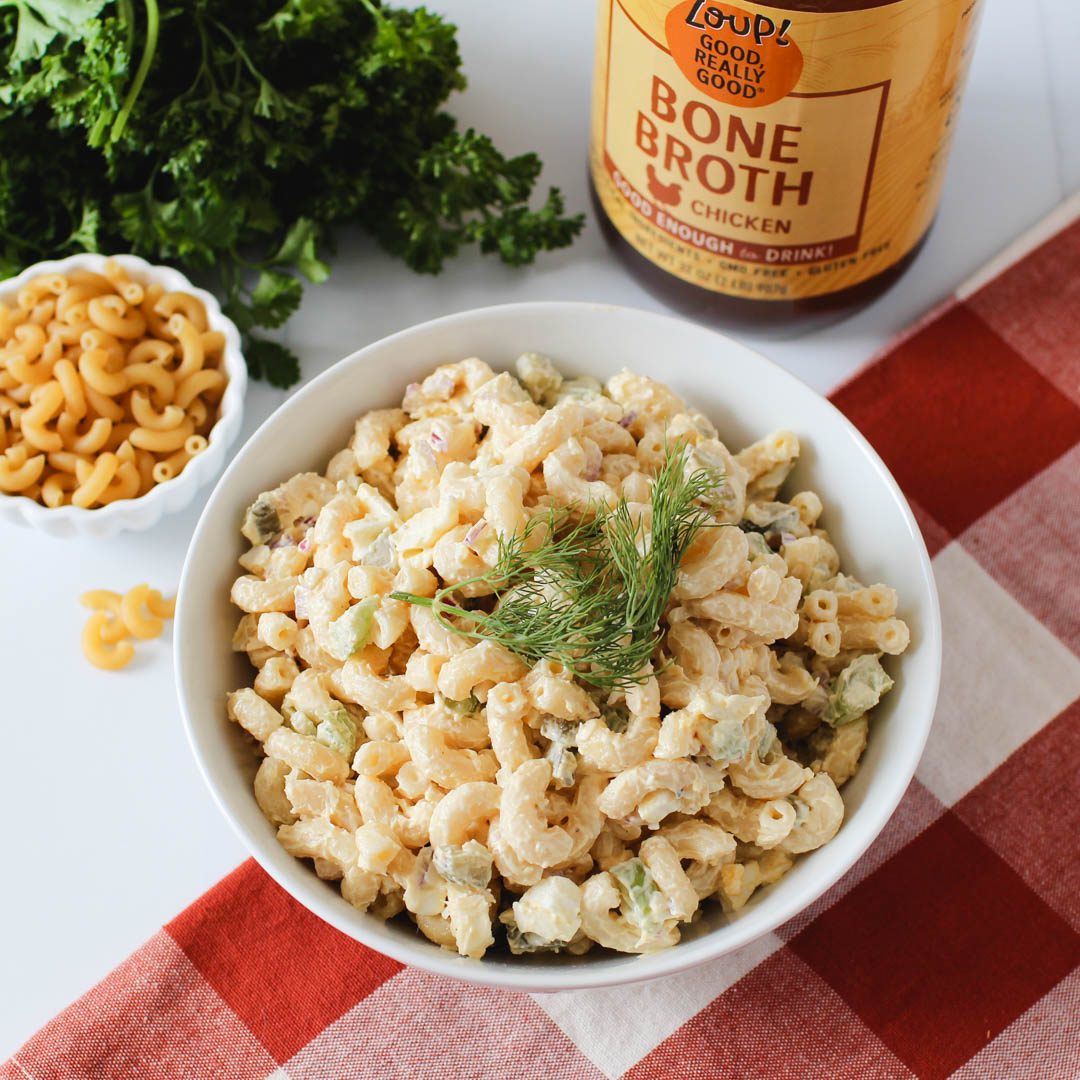 Macaroni Salad
What makes this summer classic side dish the best you've ever tasted? It starts with the broth. Cook your macaroni salad noodles in Zoup! Good, Really Good broth to make the best mac salad ever.
Ingredients
16

oz

elbow macaroni

6

hard boiled eggs

2

pieces

of celery

chopped

1

cup

of red onion

chopped

1

bell pepper

diced

4

tbsp

pickles

chopped

Salt and pepper to taste

2

cups

mayonnaise

2

tbsp

pickle juice

2

tbsp

red wine vinegar

1

tbsp

dijon mustard

4

tsp

garlic powder

2

tbsp

sugar
Instructions
Boil the elbow macaroni according to the package in your Zoup! Good Really Good Chicken Bone Broth. Drain, rinse with cold water and set aside.

While the elbow macaroni is boiling, prepare your hardboiled eggs. Once you peel the eggs, separate the egg yolk into a separate bowl.

Chop the egg whites and combine them in a bowl with the chopped celery, red onion, bell pepper, and pickles. Then add the cooked macaroni and stir until well combined.

Mash up the egg yolks with a fork. Then stir in the mayonnaise, pickle juice, red wine vinegar, dijon mustard, garlic powder, sugar, salt and pepper. Stir until smooth.

Pour the dressing over the macaroni mixture until well combined. Serve immediately or let chill until ready to serve. Enjoy!
---
We hope you enjoy your Macaroni Salad cooked with Zoup! Good, Really Good Chicken Bone Broth! Be sure to check out our social pages to stay up to date with all things Zoup! Good, Really Good.