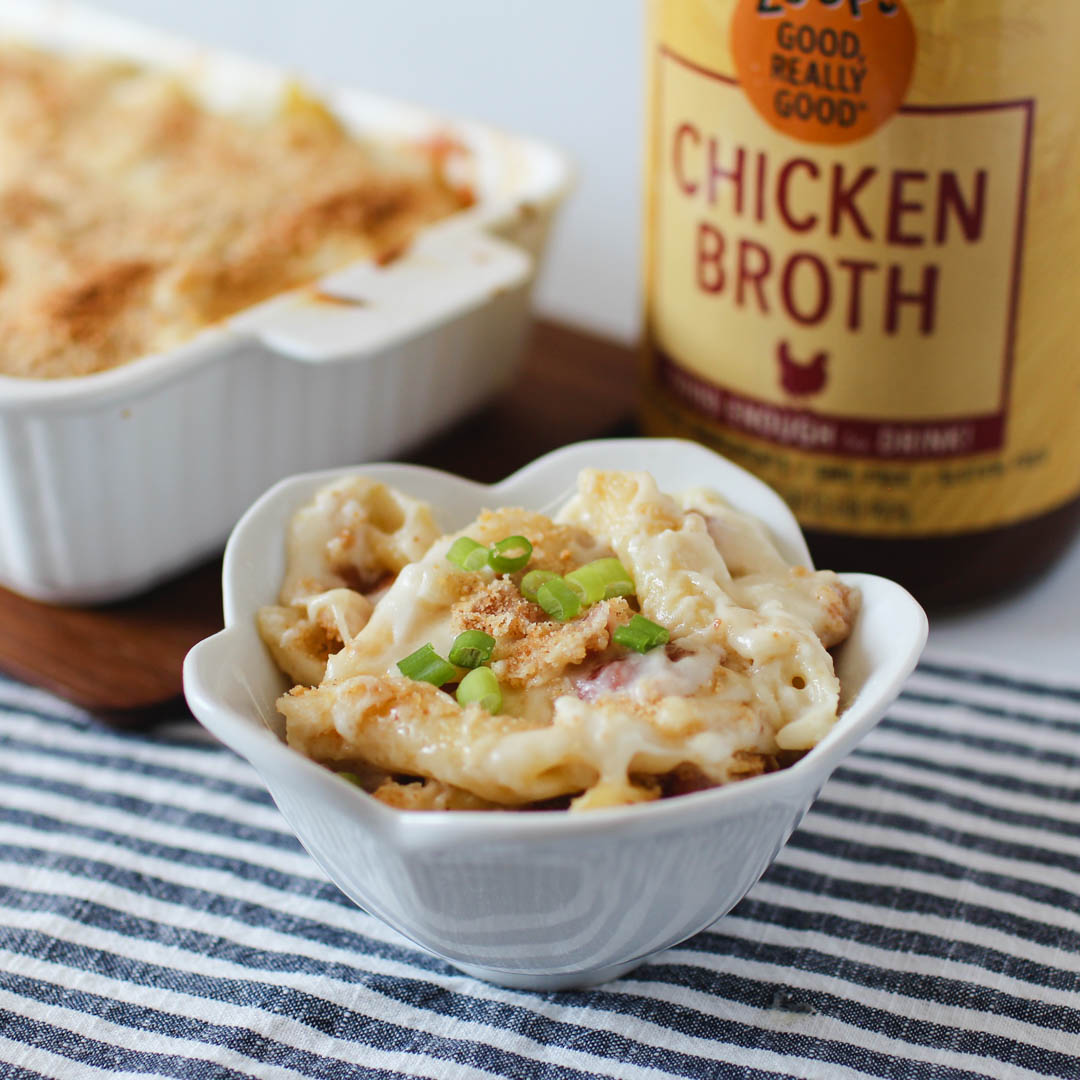 Bacon Pepperjack Macaroni and Cheese
Hello Bacon Pepperjack Macaroni, nice to meet you! We love a good twist on a classic, which is why your whole family will love this Mac and Cheese.
Ingredients
1

Jar of Zoup! Good

Really Good® Chicken Broth

6

oz

Penne Pasta

10

tbsp

butter

½

cup

flour

1

tsp

salt

½

tsp

pepper

3

cups

milk

1

cup

cream

16

oz

Pepper Jack cheese

8

oz

bacon

about 8 slices

½

cup

bread crumbs
Instructions
Bring broth to a boil and then boil penne pasta per pasta directions.

While the pasta is cooking, cook your bacon in a large skillet. Once cooked, set aside and let cool.

Once pasta is cooked, drain pasta and set aside. Preheat the oven to 350 degrees.

Grease a 9×13 baking dish and set aside.

In a medium saucepan over medium heat, melt 8 tbsp of butter and mix together with the flour until a thick paste forms. Then slowly stir in the milk and cream. Add the salt and pepper and combine well. Stir until the sauce thickens. Turn off heat and set aside.

Place the cooked pasta in the baking dish. Cover with the cream sauce. Then sprinkle the pasta with pepper jack cheese until completely covered. Then sprinkle the bacon on top. Combine in the baking dish until well combined.

Then add ½ cup bread crumbs to the top. Bake in the oven for 15 minutes. Then broil for approximately 3 minutes or until bread crumbs have browned.
---
We hope you enjoy your Bacon Pepperjack Macaroni and Cheese cooked with Zoup! Good, Really Good Chicken Broth! Be sure to check out our social pages to stay up to date with all things Zoup! Good, Really Good.