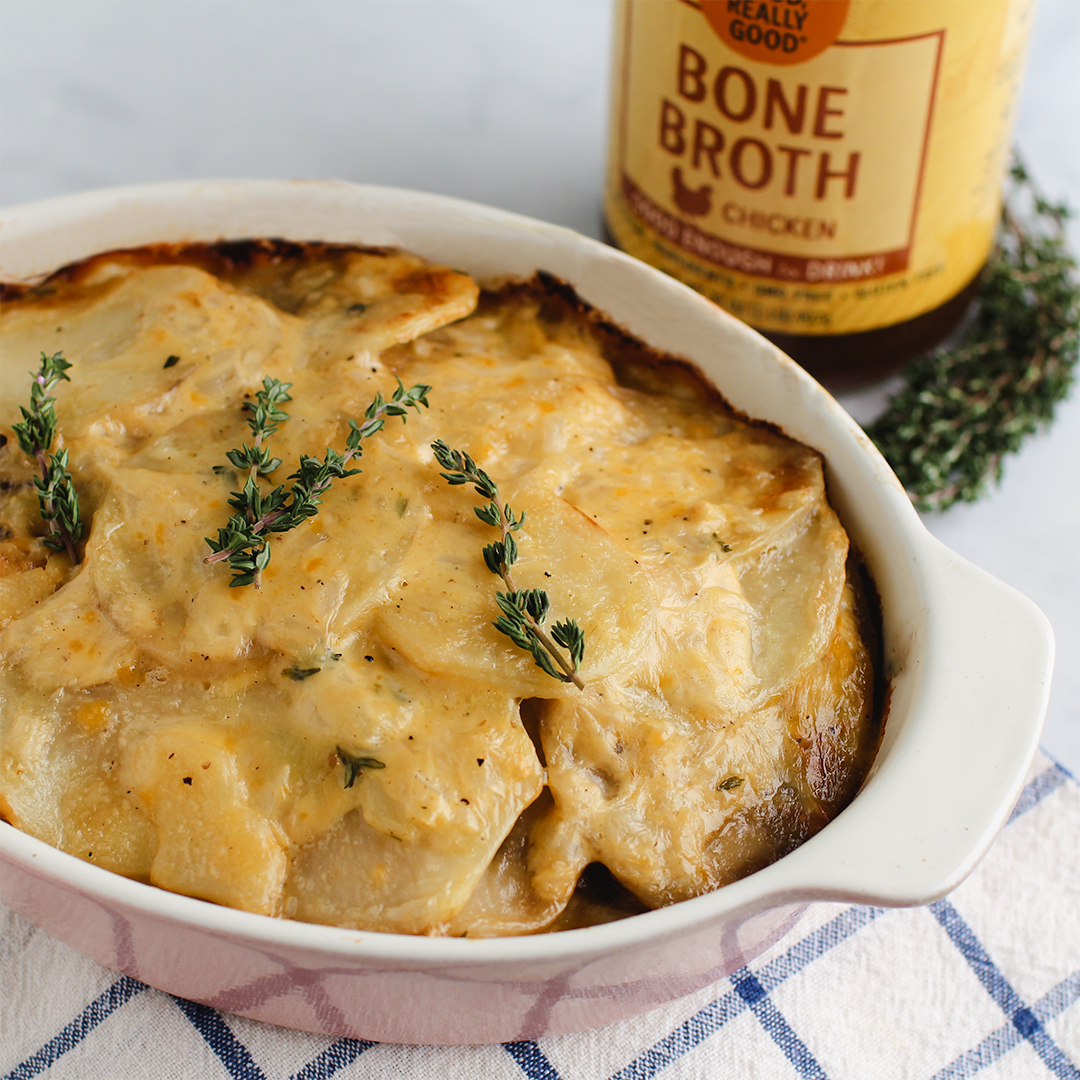 Scallop Potatoes
Add extra flavor to these creamy Scallop Potatoes with Zoup! Good, Really Good®Chicken Bone Broth.
Ingredients
2

tbsp

butter

¼

cup

chopped onion

2

garlic cloves

minced

1

tbsp

fresh thyme

1

tsp

salt

½

tsp

pepper

6

Russet potatoes

1

cup

Zoup! Good

Really Good® Chicken Bone Broth

1

cup

heavy cream

1

cup

shredded cheddar cheese
Instructions
Grease a 9×13 baking dish and set aside.

Wash and peel potatoes. Then slice potatoes ¼ inch thick.

Melt butter over medium heat in a large pot. Add the onion and saute until translucent.

Add garlic, thyme, salt, and pepper. Then add the Zoup!

Good, Really Good

®

Chicken Bone Broth and cream. Mix well.

Add the potatoes and simmer for approximately 10 minutes or until potatoes are tender. Stir occasionally.

Place the potatoes into your pan. Add any remaining sauce over the top.

You can either bake the potatoes immediately or refrigerate prior to baking. If you do plan to refrigerate, the day you plan to bake the potatoes, allow the pan to come to room temperature by leaving your potatoes out for an hour before baking.

Preheat the oven to 425 degrees. Cover the baking pan with foil and bake for 30 minutes. Remove foil and continue baking for 20 minutes. Allow to cool slightly and then enjoy!
---
We hope you enjoy your Good, Really Good Scallop Potatoes made with Zoup! Good, Really Good Chicken Bone Broth! Be sure to check out our social pages to stay up to date with all things Zoup! Good, Really Good.